Choosing a lawn care company can be overwhelming sometimes. A lot of people put pride into their lawns and have a tough time giving over control when choosing to partner with a lawn care company. That makes sense to us! The lawn is the first thing that people see when they pass by your home or walk up to it for a visit. It is understandable that you have an attachment to it.
That's why we are here to share with you all the different ways that you can ensure you choose the lawn care company that is right for you.
Check Out Their Local Recognition
When a lawn care company is talented at what they do, they are often noticed and recognized by magazines or organizations in their local area. This is somewhere that Top Lawn shines! Our work has been locally awarded by the Detroit Home Magazine in 2018. We have also been awarded the title of Best of West Oakland County Lawn Care in the Spinal Column. We have taken great pride when it comes to receiving titles like these and we continue to do our best work to ensure the customers of Oakland County are never disappointed.

Look For a Family-Owned and Operated Company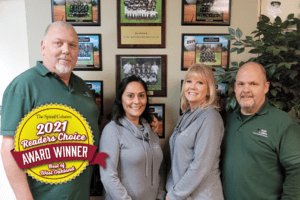 Most often, the lawn care companies that are family-owned are not always family-operated. Here at Top Lawn, we are happy to say that we are family-run! We live and work in the area of Oakland County, Michigan, leading to a deeper knowledge of the lawn care needs around us. With us, you will never be just another paycheck for us. We treat every lawn like it is our own, with love, attention, detail, and a promise to use the best and most up-to-date products in the industry.
Understand Their Service Terms
Service terms are something that varies from company to company. Most often, lawn care providers will have it written into their contract that they are automatically renewed for the same services each year. This is great when you are in love with your lawn care regimen, but no-so great when you don't. That's why Top Lawn sends several reminders before renewing a service. However, not all lawn care companies allow this contract to be canceled at will.
For example, some companies may offer a 50% discount on their first application treatment to recruit you. Unfortunately, offers like this are often never renewed from season to season. When companies are offering this discount, they are basing their pricing on an average annual lawn plan with a cost of $500/year for a 5,000 sq. ft. lawn.
That's where the team at Top Lawn is different, we want to ensure our customers are happy with what they get! Our pricing discounts are renewed each season which sets us apart from the competition. We are so confident in our abilities to provide the best lawn care for the people in our area that we don't have to trap you into a long-term agreement.
Top Lawn's Values and Promises To Our Customers
We know that taking care of your lawn can be tough! There is so much back knowledge required and our team here has the education and equipment to really make your lawn as great as it can be. So when you are choosing your lawn care company, choose wisely.
Top Lawn implements our values in every lawn care service that we provide. Whether it is aeration, lawn fertilization, grub control,tree and shrub care, or pest control, you can count on us to get the job done with integrity.
Our customers can give us a call at (248) 956-6022 or keep the communications online by filling out our contact form.
Don't forget to check out our monthly blog for more gardening and lawn care tips and ideas.
To keep up with all of our work and for the latest updates on discounts and deals, we encourage our customers to follow us on Facebook and keep up with ourTwitter! Don't miss out on what we have to offer our customers!